---
To read more about Hillary Clinton News, please go to Clinton.news for all the latest updates
Even before Hillary Clinton officially announced that she running for president in 2016, many wondered if the ghost of the Monica Lewinsky scandal would haunt her campaign. After Lewinsky wrote her incredibly well-received "comeback" story in Vanity Fair in 2014 and became an anti-bullying advocate, people wondered if even just having her name back in the news would stir up the ugliest memories of a Clinton White House and hurt the former secretary of state's campaign. However, while Clinton advocates dismissed the idea Bernie Sanders supporter Rosario Dawson made Lewinsky relevant to the election in a way that may actually resonate with voters.
(Article by Emily Shire, republished from http://www.bustle.com/articles/156761-heres-how-monica-lewinsky-could-haunt-hillary-clintons-campaign-as-more-than-a-one-off-low-blow)
On Saturday, the actress and feeler of the Bern cited Lewinsky at a rally for Sanders in Baltimore, just days before Maryland goes to the polls on April 26. During her introduction for the Vermont senator, Dawson said, "We are literally under attack for not just supporting the other candidate," and then added:
Now, I'm with Monica Lewinsky with this. Bullying is bad. She has actually dedicated her life now to talking about that. And now as a campaign strategy, we are being bullied, and somehow that is okay, and not being talked about with the richness that it needs.
Clinton's campaign refused to directly address Dawson's remark while simultaneously attacking Sanders for it. Nick Merrill, a Clinton spokesman, told CNN he would "absolutely not" respond to the Lewinsky reference, but said, "You could ask the Sanders campaign why they encourage this vitriol in the vicinity of their candidate by staying silent."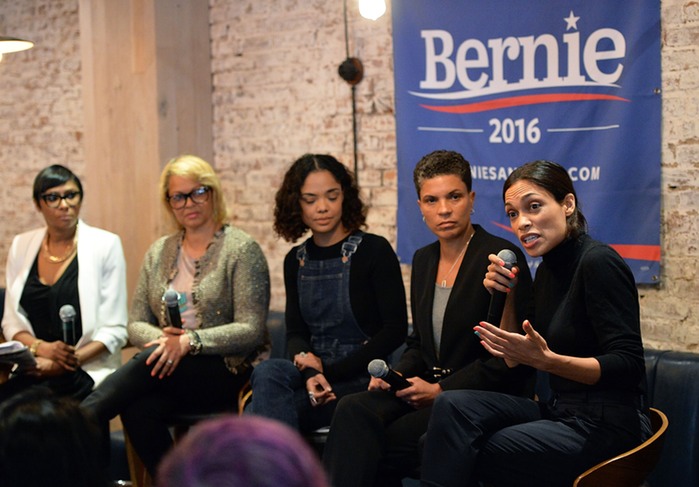 To be fair to Sanders, he hardly condoned Dawson's remark. The Vermont senator told CNN's Jake Tapper on State of the Union that "Rosario is a great actress, and she's doing a great job for us … she's been a passionate fighter to see that we increase the voter turnout, that we fight for racial, economic, environmental justice."
At the same time, Sanders didn't criticize it, either. He sidestepped Dawson's Lewinsky reference, and by no means denounced it, but I'm not certain this is a case where he clearly needs to — nor one where Clinton can claim moral high ground and merely accuse Dawson/Sanders of dredging up the past. Bringing up Lewinsky is not inherently a low blow or a distraction, and I'm not sure the Clinton campaign will always be able to self-righteously dismiss it as they did in this instance.
For sure, it raised red flags when Donald Trump spoke of Bill Clinton's paston NBC's The Today Show, saying that "there certainly were a lot of abuse of women, you look at whether it's Monica Lewinsky or Paula Jones, or any of them" and that they'd be "fair game" for attacking Hillary. It's worth pointing out that there's a difference between Lewinsky's and Jones' cases: Jones didaccuse Clinton of sexually harassing her (it was dismissed, and then Clinton settled while Jones appealed), while Lewinsky has always maintained that their affair was consensual. But more importantly, Bill, not Hillary, should have to answer for his sexual behavior.
That holds when it comes to accusations like the ones made by Rand Paul. "If they want to take position on women's rights, by all means do. But you can't do it and take it from a guy who was using his position of authority to take advantage of young women in the workplace," the Kentucky senator told CNN. Personally, I think his argument that Bill Clinton should be scrutinized and criticized for having a sexual relationship in which there was an especially massive power difference at play holds water. But that's Bill's problem to deal with, not Hillary's.
Read more at: http://www.bustle.com/articles/156761-heres-how-monica-lewinsky-could-haunt-hillary-clintons-campaign-as-more-than-a-one-off-low-blow
To read more about Hillary Clinton News, please go to Clinton.news for all the latest updates